Bookstore solution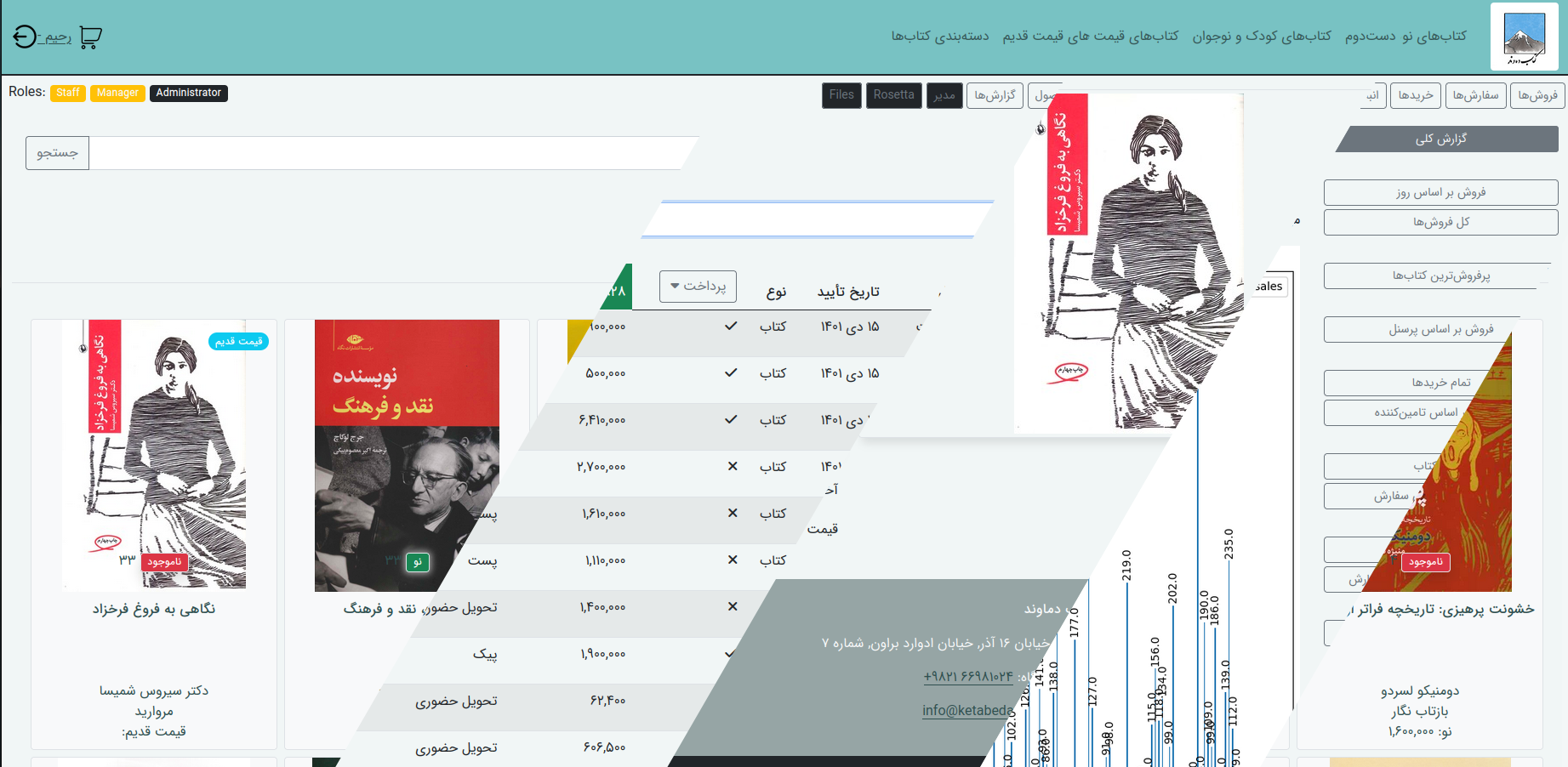 What is it
The bookstore solution is software for managing a bookstore with its all transaction.
It consist of these modules:
Sales
Orders
Purchases
Products
Online shop
warehouses
Reports
Who need it
Everyone who want to manage a bookstore online or offline need a software to manage sales and purchase and product workflow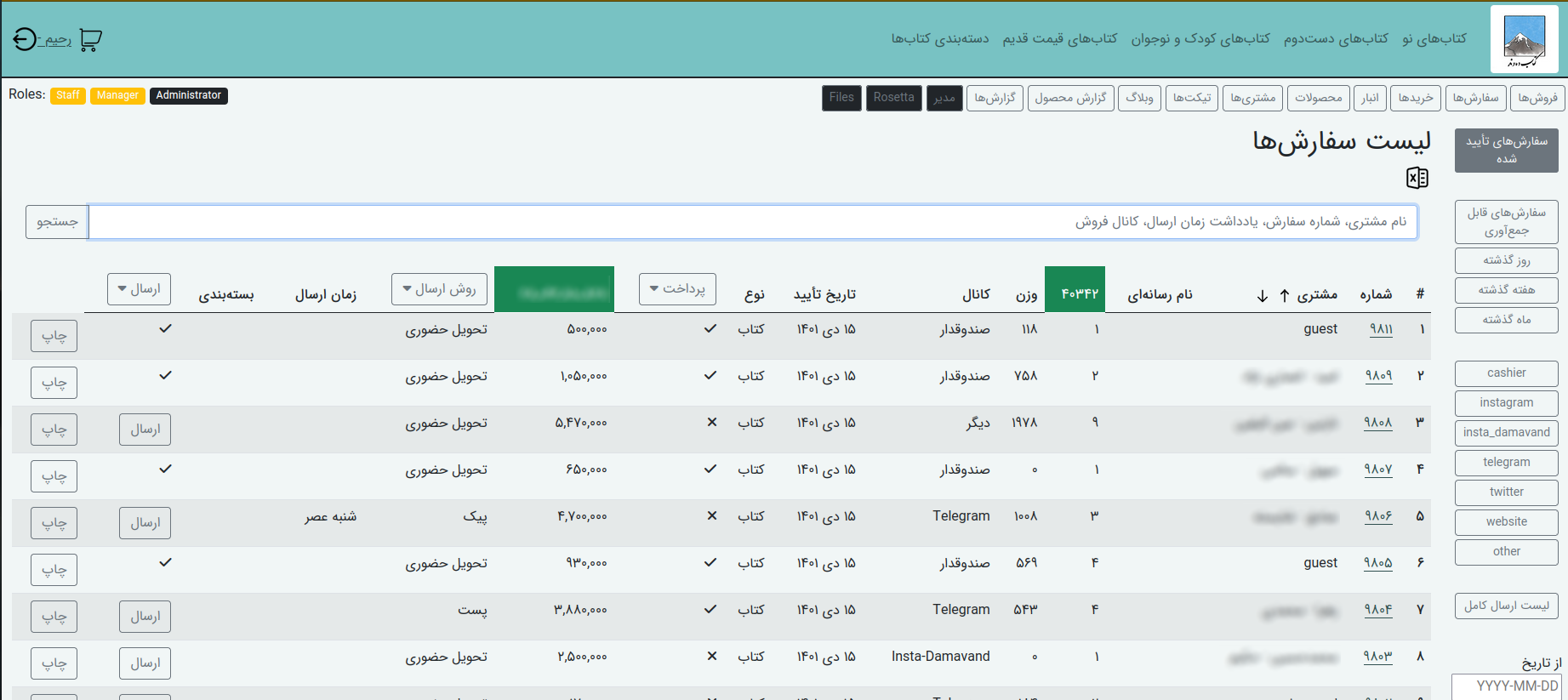 Bookstore solution has a powerfull two-sided staff tabs to manage the system
How it works
It has these parts:
And also
What is the main features ↑
There are a lot of features in this software in comparison with other bookstre management software
These are some of the main features:
Sales
Staff can add draft invoice
Staff can add make a payment link
there are 7 sales channels
Staff can control both the online and in bookstore invoices at the same place
invoice could be pay by cash, bank gateway or by clients credit
shipping method could be change when the invoice is approved
Other prosucts than books also could be added to invoice
Print formatted invoice on Thermo printers or A4 size
Orders management
Order is categorized nased on their channels
Orders have a shipping workflow with bike delivery, post or pickup from bookstore
There is a workflow for collecting onlie orders from the bookstore and make records in the database
There is a powerfull search in orders based on product name, client, channel and order number
Orders can be changed to draft to change the details
Purchases management
Purchases are added to database after approve proccess
The purchase proccess could manage the 7 variations of prices that each single book could have
There are a list of vendors to register a purchase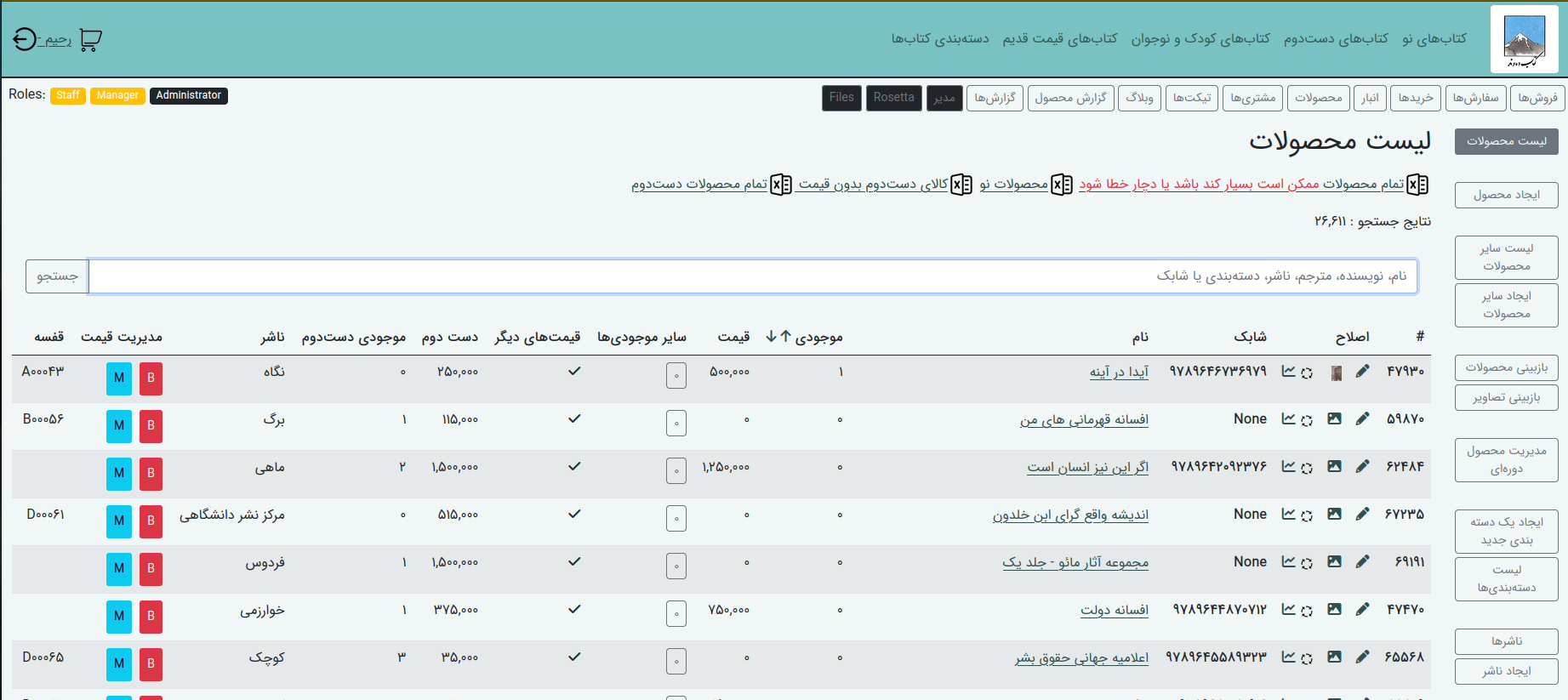 Products management
Every single book have more than 50 different data details like as ISBN, author, page number, wieght, published year and more
Products could have more than 10 pictures
Each product has a Main price and stock and 5 other price and stock for New variation and a price and stock for Used variation
the history of any changes are kept for products
Product could be placed in Product List to use for some purposes
Warehouses management
Product workflow which shows any actions that happened on a book
Daily report of sold products and current stock of their variation
Inventory review proccess
Finding any contradictions between shelves and database
Refund workflow both from client or to the vendor
Clients
Add and remove clients
See the history of clients orders
Manage clients credit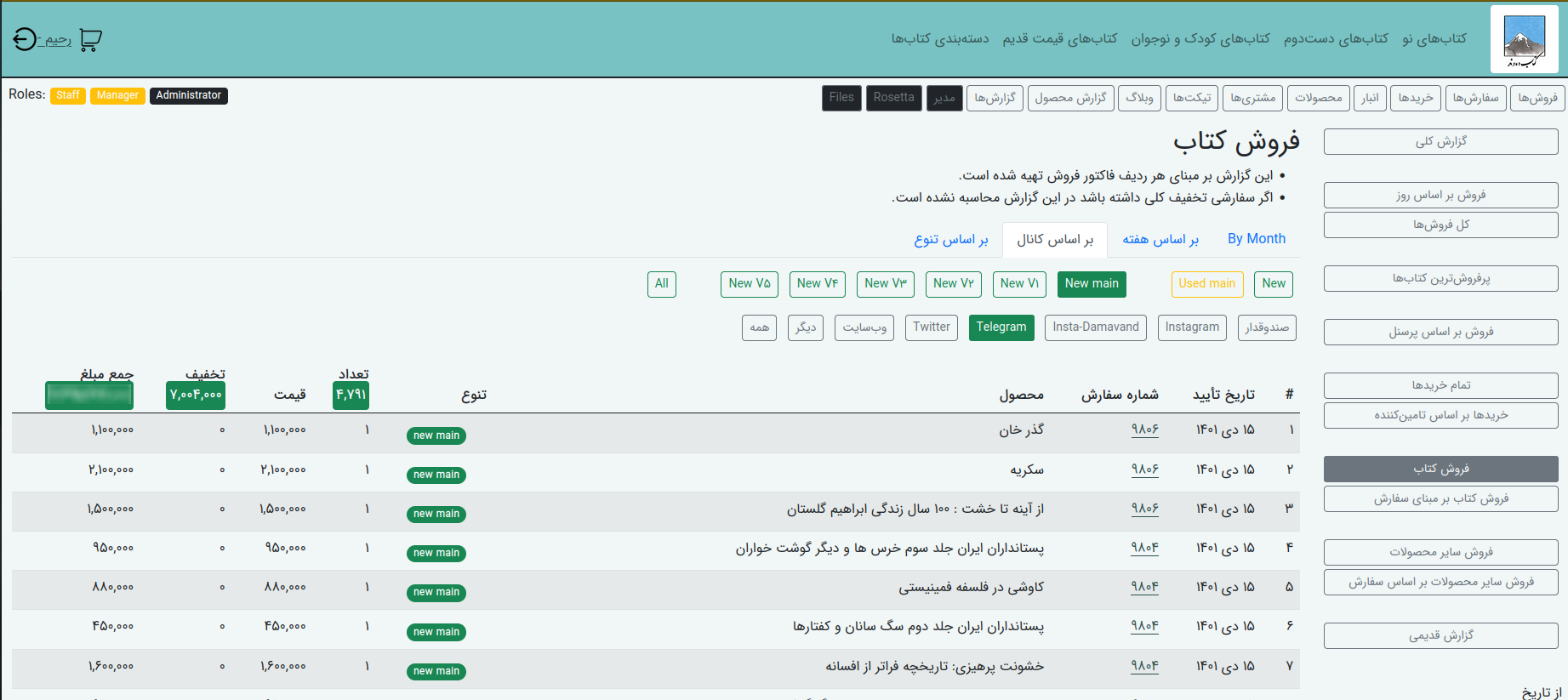 A powerfull filtering system for reports
Reports
There are a lot of slaes and purchase reports
Sales by day
All orders
Sales by week/channel/variation
Export reports to excel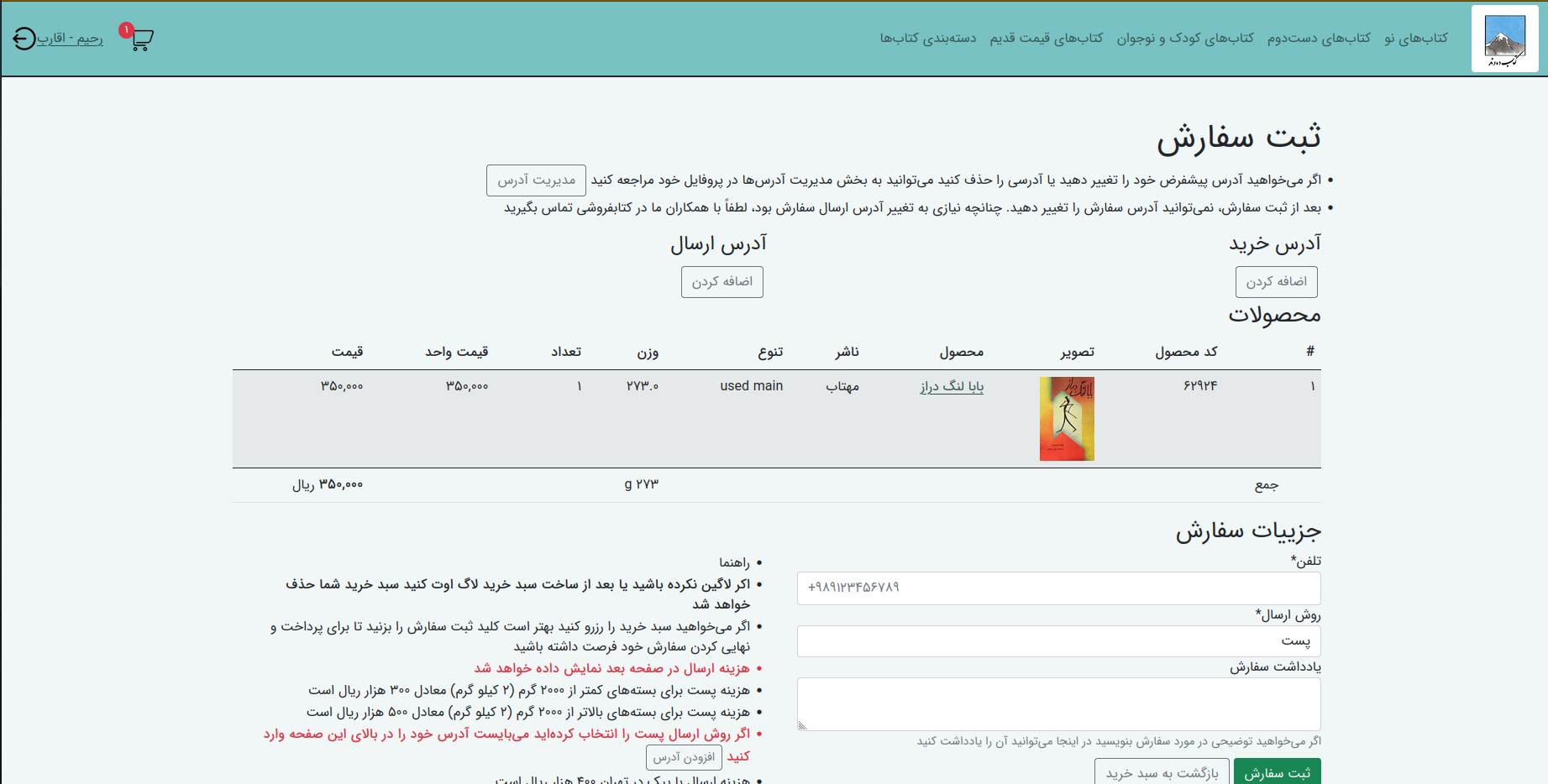 Online bookshop
Search and filter products
Add them to the cart
Inform me button for unavailable products
Login/Logout/reset password and manage addresses and user information in the profile
Pay the order online or offline
Add the book request if the product is unavailable in the databse
Weblog
A list of all posts in one page
The ability to filter posts
Wahit is the price ↑
The price is based on which features are needed for the project The package could be Full with all features or could be on basic features. The full customization is also avaialbe.
#
Modules
Full
Basic
Customized
1
sales
✓
✓

For details please contact me Customization details

1
Orders
✓
✓
1
Purchases
✓
✓
1
Products
✓
✓
1
Client
✓
✓
1
Credit system
✓
×
1
Warehouses
✓
✓
1
Reports
✓
✓
1
Refund system
✓
×
1
Online shop
✓
×
1
Weblog
✓
×
1
Ticket system
✓
×
1
Email/SMS comunication system
✓
×
Don't hesitate to contact me for consulting or to know the price details. Prices and other details